When the holiday season comes, we cannot wait to throw everything aside and head for the nearest travel destination where we can rest from routine activities. For some, finding the nearest beach where they can relax, beautiful islands where they can go sightseeing, and meet new people is the goal for their holiday.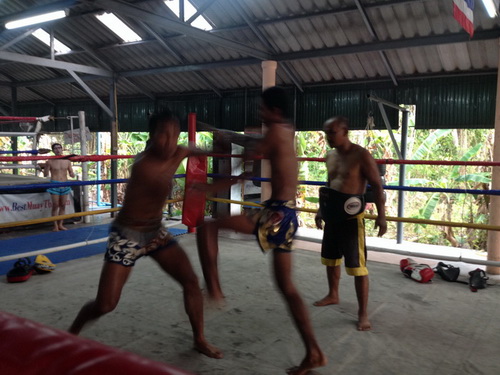 While that's a great plan for a holiday, you can also enjoy so much more than beautiful beaches and some occasional reading. Do you know you can enjoy your holiday while having fun and boosting your health and fitness?
Traveling to Thailand for a holiday season with your family is a great way to spend some quality time together, learn the art of Muay Thai, and achieve good health.
Have you noticed that most persons get really unhealthy when they go on vacations? They eat the wrong things, gain weight, and sometimes return home with health concerns to handle.
However, Thailand has refined holidays with its Muay Thai training camps where you can spend time training, sparring, and maintaining a wellness routine. You can also use Muay Thai training as a weight-loss therapy because you burn a lot of calories as you practice.
What are exciting about Muay Thai are its unique techniques that are traceable to Thailand's unique culture and practices.
Are you considering it? Let's shed more light on the things you will enjoy when you travel to Thailand for a Muay Thai holiday.
A fitness and weight loss routine
Say goodbye to a reckless and unhealthy holiday. Now, say hello to a holiday that builds discipline, helps keep your weight in check, and improves your health, while you're having fun. As you engage in sparring, cardio exercises, and other fitness events, you'll achieve perfect health.
Enjoy the intrigues of a taxing sport
Muay Thai training is quite physically taxing, but then, with the difficulty comes excitement and the zeal to push on. Muay Thai engages your body and mind to work towards your daily training goals. As you do this, you build focus, discipline, and patience. You'll also feel great by the time you're done.
Fun activities to take part in
A Muay Thai holiday is not all work, and you won't spend your entire holiday throwing punches. There are loads of fun activities to engage in with your family and other tourists. Most Muay Thai camps are situated in beautiful country sides or on islands that have beautiful beaches and views. You'll have a lot of sights to see and places to visit.
The Thai hospitality and culture
Residents of Thailand are very hospitable to tourists, so you will have fun and feel welcomed in this country. You'll also have opportunities to experience Muay Thai culture by visiting their old temples, market places, or attend the grand carnival that happens yearly.
Affordable and comfortable accommodation
Most training camps offer affordable accommodation to tourists. Their hotels are also quite affordable, so you will spend less when you travel to Thailand. Feeding is also affordable, so you don't have to worry about spending so much.
Make Thailand the destination for your next holiday and you'll be gushing about it for years to come.