Suwit Muay Thai training camp and gym in Thailand @ Suwit Gym :
Suwit Muay Thai camp can teach Muay Thai for beginner to professional. Everyone can learn at Suwit Muay Thai gym. Suwit Muay Thai can teach women and children.
Suwit Muay Thai training camp has around 10 bungalows with Ac and five dorm-style rooms adjacent to its boxing rings. You will have the chance to learn any level of Muay Thai, whether you are an absolute starter or amazing fighter. Suwit Muay Thai also offers hand wraps, boxing gloves, belly pads, ankle guards, and kick pads. There is a swimming pool for customer.
Self-defense is the right of every citizen of any country in the world, does not matter they are man, children, and or women, everyone is entitled to defend oneself whenever there is a need. But, what if when one is not aware of how to defend him or her when she or he is under attack? The answer is Learn Muay Thai to explore your hidden talent and abilities. Without any doubt, Muay Thai is the best Sports amongst all the Martial Arts.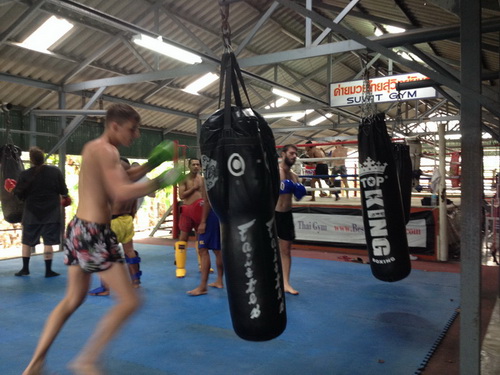 In a UFC or any other MMA fight, one can feel that every fighter is implementing Muay Thai moves during a bout, because it is the most effective fighting technique which muffles defense in the offense. As it is a non-stop come forward technique, so it is good to deal with goons, bullies, and robbers. A single Muay Thai fighter can easily handle three to four bullies.
There are a lot of gyms and training camps claiming all over the world that they teach this art of eight limbs but, the reality is, one should only learn the art from the natives and inventors who know its ins and outs more than anyone else. So if you really want to join a Muay Thai training camp, you should join one located in Thailand and is being served by the natives. Because along with training equipment, coaches, and gyms, a great supportive environment is also needed., And that environment is found in Thailand where everyone "eats and sleeps" Muay Thai.
There are hundreds of training camps in Thailand serving humanity by teaching this great art that not only brings a lot of power and stamina along with good health but also adds self-confidence and self-defense to one's arsenal. Muay Thai is the best weapon to carry along. Thousands of people visit Thailand annually to master this art to stay fit, healthy, and active, and also to live a well-disciplined life. Because Muay Thai is not only a sport, it is a lifestyle to enjoy good health even in old age.
Thailand's coaches enhance the abilities of the beginners and the well-trained fighters too and load more bullets to one's gun. If you really want to learn this art and whatever your motto is, just learn from the inventors who teach in the land of Muay Thai, Thailand.
Suwit gym is at Phuket island . Phuket is beautiful island in Thailand .
Suwitgym & The information of Muay Thai training in Thailand :
Suwit page is information about Muay Thai training cost .
Suwit detail have many prices for you.
Muay Thai for holiday is a new travel for men.
Muay Thai for cardio workouts is a new trend for good health
Muay Thai in Thailand is a sport for everyone .
Muay Thai for protect yourself is for women .
We will update the Muay Thai training cost & room in soon @ 2020
If you have any problem, please contact Suwit Muay Thai training gym .
www.SuwitGym.com @ Suwit Gym @ Muay Thai camp in Thailand